Head Graphene 360+ Prestige Tennis Racquets Full Review: Precision and Feel Like No Other
THE GOOD | Graphene 360+ Prestige tennis racquets come engineered with SpiralFibers for added flexibility. This Prestige line maintains the exceptional control and feel the silo has made its name with. The MP (new mold) will undoubtedly be one of the best racquets of 2020.  If you're looking for a more traditional player's frame, Prestige racquets are the only place to start.
THE BAD | The Prestige MP is really the only racquet of the line that shines. Although the Mid is an excellent racquet for advanced players, you'll need to be semi-pro or ranked to be able to handle it against other advanced players. The Pro and Tour both fall short of the MP in terms of feel, flexibility and overall playability.
THE BASE LINE | The Prestige line continues to be a player's frame line for intermediate to advanced level players. With a variety of head sizes to fit anyone capable of higher-level play, the Prestige line has something for everyone. Ultimately the MP is the racquet that shines the brightest in this update to a historic racquet line.


Overall Rating: 4.6/5 Stars 
Power: 4.5/5
Control: 4.8/5
Feel: 4.8/5
Spin: 4/5
Stability: 4.6/5
Flexibility: 4.8/5
Note: This rating is of the MP, the racquet we believe will be adopted the most for a variety of reasons we will list below. The rest of the line, while decent in specs and playability, didn't give us as much to praise as the MP did.
Please share this article with friends & the tennis community at large if you find it helpful :). Enjoy!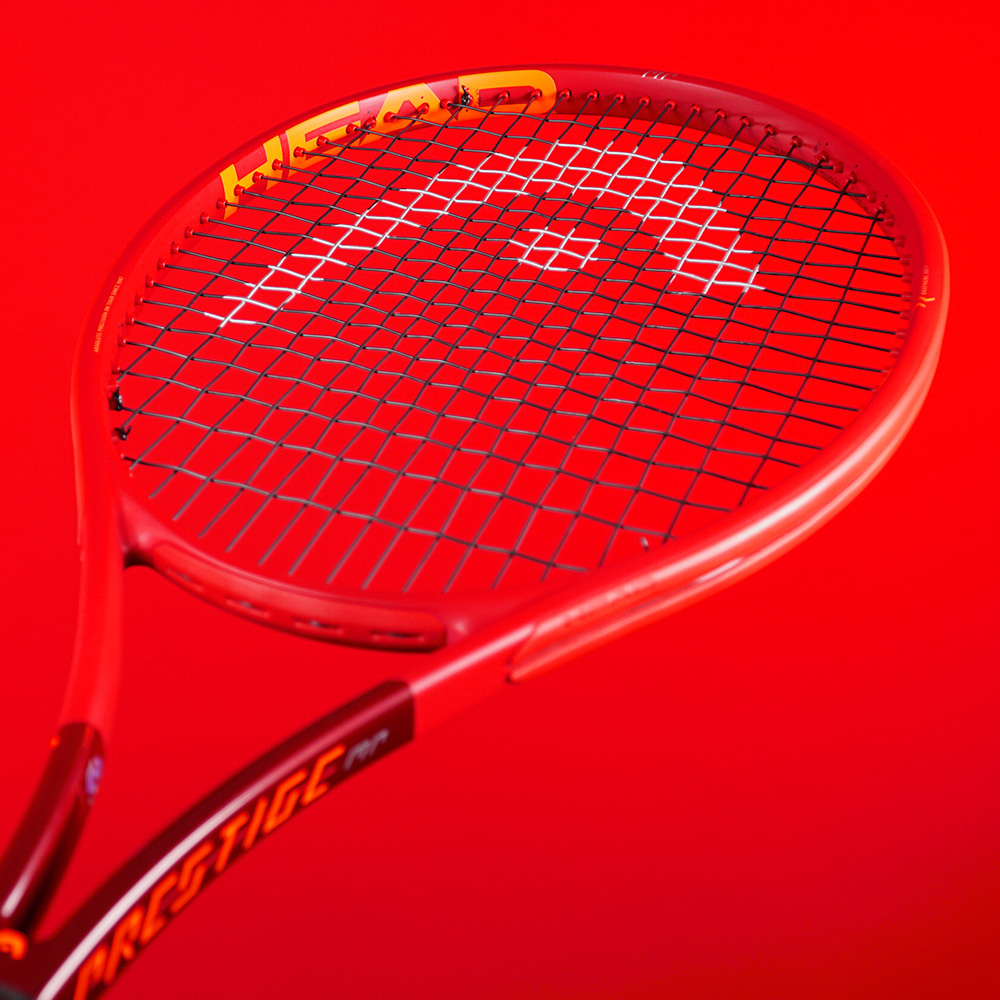 Note: We use calipers, an RDC (Racquet Diagnostic Center) and decent playtesters in order to give you the most accurate review possible. Some of our specs will conflict with what HEAD decides to put on the racquets, just like the Gravity line (wrong balance, beam widths).
A ROUND UP
Note: Our focus in this Prestige line review will be the Prestige MP & Mid. These two racquets help sum up the "silo" nicely. Feel free to comment on what you think might be missing from this review. 
Head Graphene 360+ Prestige tennis racquets come with more feel and precision than ever before thanks to a new racquet mold (MP) and the addition of SpiralFibers in the throat (for some, check flex ratings). The overall softer feel of some of these Prestige racquets helps take away some of the harshness you'd expect in such a thin beamed frame. Although slightly stiffer than the Prestige Classic, some of the Graphene 360+ Prestige line is still very low by today's standards (MP at 59). 
Mid: The most advanced racquet of the bunch. The Prestige Mid is only for the strong, advanced player capable of hitting one of the smallest sweet spots on the market, consistently. The 65 flex rating means that whatever SpiralFibers were put into the racquet aren't doing much on the machine or during the playtest (more than one playtester complained about stiffness after expecting something softer). The Mid has struggled to remain relevant in the modern game due to its lack of forgiveness(sweet spot size). However, this racquet is highly recommended due to its precision, for a capable tennis player.
MP: The beauty of the bunch, the Prestige MP is an entirely new racquet by HEAD (new mold). This MP comes in a 98 sq. in. head size (up from the 95 of last model) and a super-low flex rating at 59. You can feel ball-pocketing and increased dwell time thanks to SpiralFiber technology. The 12.2 oz/345g (strung) weight with a 7pts HL rating give this racquet decent plow-through, maneuverability, and power. This racquet comes highly recommended by our team for any intermediate to advanced level player looking for an almost perfect blend of precision and power. The 18x20 stringbed gives this 98 frame an even more classical feel.
Tour: The Prestige Tour is a slightly more accessible version of the MP without the nice flex rating (65). At a 99 sq. in. head size and 11.3 oz/320g (strung), the Tour is a racquet that an advanced-beginner or intermediate can easily become accustomed to.
Pro: The Prestige Pro comes in at about 1mm thicker of a beam throughout the racquet. This spec is not in line with HEADs official specs, I note it for you none the less. The Pro also comes with a low flex-rating of 63 (strung). This flexibility along with a 95 sq. in. head size and a 16x19 string pattern make this racquet a nice blend of traditional feel and spin. This racquet is most similar to a current Pro Staff 97, but in a 95 size.
S: The Prestige S seems like an afterthought or to force beginners and beginner-intermediates access to the Prestige line(HEAD's most advanced line). Although the racquet has decent feel(for its weight) and precision, we feel that a Speed MP is so close in specs that someone of around this skill level would have been fine in the Speed. To us this racquet seems that HEAD has made just another frame just for the sake of making it.
As always the Prestige line model's choices (Mid, MP, etc) are a jumbled mess. The Pro and Tour versions are not the most advanced of the group, as pretty much every line by HEAD and every other company follows. Luckily we can always turn to numbers in order to make sense of their disorganization. See our specs list below for details on each racquet.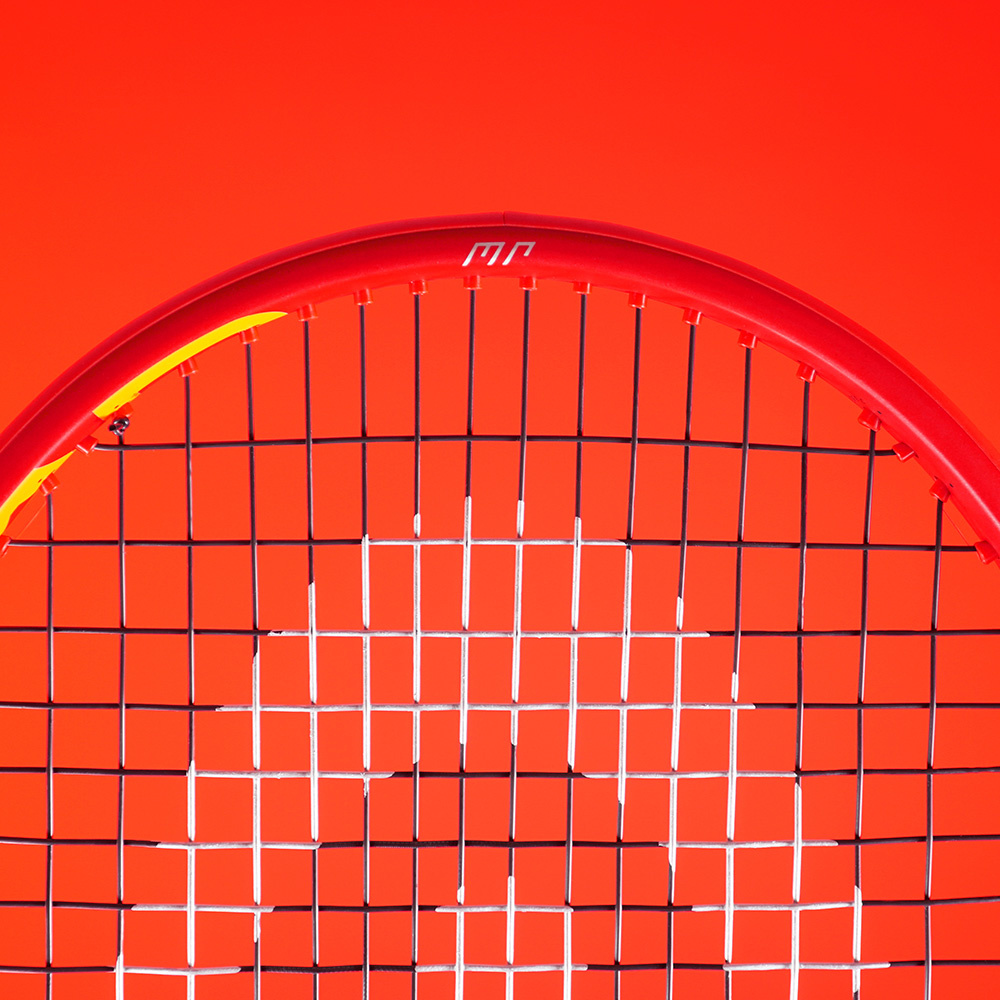 TECHNOLOGY & DESIGN REVIEW
Graphene 360+ is Head's latest rendition of their dampening/solidifying technology in conjunction with the all-new Spiralfibers technology. Graphene 360 helps ensure not only the solidity you want but helps keep things comfortable on serves and harder hits. Graphene has been added to the 12, 3 and 9 o'clock positions as well as the throat to help stave off unwanted vibrations on impact.
The Prestige line comes with Head's brand new Spiralfiber technology. This technology incorporates innovative fibers that are woven in spirals at the base of the racquet's head for increased flexibility and feel.
THE PLAYTEST
Every racquet in this silo was created for precision. Right off the bat everyone was capable of hitting closer to their target with this racquet line than what they were generally used to. Prestige's come with a control, great amount of feel, added flexibility and some dampening for harsher hits. The Prestige Mid gave everyone more control than anything else they ever played with. Some had problems generating power thanks to the small head size (93 sq. in.).
The Pro version might be great for someone looking to switch from an older 95 into something with today's technology. The Pro gave a decent amount of spin for its head size and head profile. The MP impressed everyone. Its 18x20 string pattern, decent weight, stability and super low flex (59) gave this racquet exceptional feel, precision and plow-through. 
The Prestige line behaved well at net thanks to the general head-lightness of the racquets. The Mid, Pro and MP came with decent stability at net, on serve and at the baseline thanks to their weights. The Tour and S struggled compared to their heftier brothers.
Although the MP didn't come with a lot of spin compared to other 16x19 frames, the MP is an excellent option for someone looking to become more precise than they've ever been. For those looking for a MP similar to the Prestige but with a more open string pattern HEAD offers multiple options in the form of the Speed MP or the Radical Pro.
 
SPECS REVIEW
The Graphene 360+ Prestige racquet line has incorrect balance specs /beam widths written on the racquets. You may find differing values on other sites and on Head's official site but the balance points and beam widths are pretty easy for anyone to validate our values. This isn't the first time that Head's balance points are incorrectly stated on their frames.
Head Graphene 360+ Prestige Tennis Racquets: Key Specs
|   | Prestige Mid | Prestige Pro | Prestige MP | Prestige Tour | Prestige S |
| --- | --- | --- | --- | --- | --- |
| Headsize | 600 sq. cm./ 93 sq. in. | 615 sq. cm. / 95 sq. in. | 615 sq. cm. / 98 sq. in. | 640 sq. cm. / 99 sq. in. | 640 sq. cm. / 99 sq. in. |
| Length | 27 in. | 27 in. | 27 in. | 27 in. | 27 in. |
| Unstrung Weight | 11.3 oz / 320 g | 11.1 oz / 315 g | 11.3 oz / 320 g | 10.8 oz / 305 g | 10.4 oz / 295 g |
| Strung Weight | 11.9 oz / 337g | 11.7 oz / 331 g | 11.8 oz / 334 g | 11.3 oz / 322 g | 11 oz / 311 g |
| Swingweight Strung | 321 | 328 | 310 | 313 | 300 |
| Flex - Strung(RDC) | 65 | 63 | 59 | 65 | 65 |
| Strung Balance | 6 pts HL / 32.4 cm | 5 pts HL / 32.8 cm | 7 pts HL / 32.1 cm | 2 pts HL / 33.5 cm | 2 pts HL / 33.5 cm |
| String Pattern | 16x19 | 16x19 | 18x20 | 18/19 | 16/19 |
| Tension Range | 48-57 lbs | 48-57 lbs | 48-57 lbs | 48-57 lbs | 48-57 lbs |
| U.S. Price | $229.95 | $229.95 | $229.95 | $229.95 | $229.95 |
| Color | Burgundy, Red and Orange | Burgundy, Red and Orange | Burgundy, Red and Orange | Burgundy, Red and Orange | Burgundy, Red and Orange |