Head Graphene 360+ Speed Tennis Racquets Full Review: Precision and Power Optimized
THE GOOD | Graphene 360+ Speed tennis racquets come with much more flex than all previous models. This added flexibility gives this Speed line greater flex and feel than ever before. The MP and Pro models come with a much more soft, classic feel.
THE BAD | The Speed line has a great blend of power and control for beginner and intermediate levels. However, the line does not offer a smaller head size for more advanced players. That being said, it's very hard to find anything bad to say about the new Speeds (and this author generally has something bad to say about everything:)).
THE BASE LINE | The Graphene 360+ Speed tennis racquets come with a great blend of power and control. The line has a variety of weights, so there is something for everyone. The introduction of SpiralFibers has given the line a much needed softer touch without losing feel. This update to the Speed line is the largest update in its history.


Overall Rating: 4.5/5 Stars  
Power: 4.5/5 
Control: 4.2/5 
Feel: 4.6/5 
Spin: 4.2/5 
Stability: 4.6/5 
Flexibility: 4.6/5
Please share this article with friends & the tennis community at large if you find it helpful :). Enjoy!

Note: We use calipers, an RDC (Racquet Diagnostic Center) and decent playtesters in order to give you the most accurate review possible. Some of our specs will conflict with what HEAD decides to put on the racquets, just like the Gravity line (wrong balance, beam widths).
A ROUND UP
Note: Our focus in our Speed line review will be the MP & Pro models. These two racquets help sum up the lines potential nicely. Feel free to comment on what you think might be missing from this review.
Head Graphene 360+ Speed tennis racquets come with greater feel and precision than ever before thanks to Heads introduction of SpiralFibers in the throat (MP & Pro models only). The overall softer feel of some of these Speed racquets helps take away some of the harshness you'd expect in a thin-beamed, modern frame. Although slightly stiffer than the Prestige Classic, the MP/Pro Graphene 360+ Speed racquets flex is still very low by today's standards (62 strung).
Pro: Endorsed by Novak Djokovic, the Speed Pro bring plow-through, maneuverability, and power. This racquet comes highly recommended by our team for any intermediate to advanced level player looking for an excellent blend of precision and power. The 18x20 stringbed gives this 100 sq. in. frame an even more classical feel. This racquet is for the player able to generate their own spin and power but require greater access to precision.
MP: The Speed MP is a more accessible version of the Pro without the dense string pattern. At a 100 sq. in. head size and 11.1 oz/315g (strung), the MP is a racquet that an advanced-beginner or intermediate can easily become accustomed to. Playable, spin-friendly(16x19), precise and decent power.
S: The Speed S comes with a thicker beam width (25mm) and less flex than its bigger brothers the MP & Pro. The S benefits from this lack of flex and thicker beam with increased power and stability. The S comes with lightweight maneuverability, power and comes built for spin. 
MP Lite: The Speed MP Lite is yet another slight step down in weight than the S. The MP Lite comes with a 23mm beam width, 10.3oz(290g) strung weight and an even balance. This racquet is slightly less powerful than the S but comes with greater feel. This racquet is a great option for someone who can't handle the weight of the MP but doesn't want a much thicker beam like the S.
Lite: The lightest of the bunch, the Speed Lite gives beginners/juniors/seniors access to the speed line. This lightweight, powerful and spin friendly racquet comes with a strung weight of 9.9oz (282g).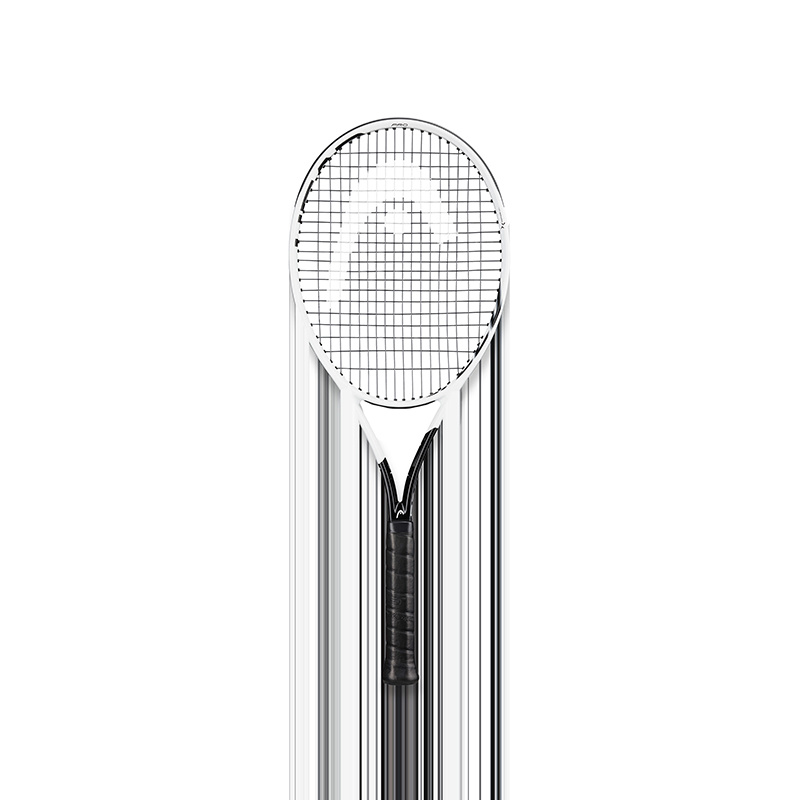 TECHNOLOGY & DESIGN REVIEW
Graphene 360+ comes integrated into the new Speed line offering greater feel and flex than any other Speed racquet ever. Graphene 360+ incorporates graphene dampening technology throughout the frame and includes SpiralFiber flex technology in the throat. The SpiralFibers added to the new Speed line give the MP & Pro models much lower flex than ever before. The rest of the line remains stable and powerful for lightweight frames. The increased flex gives the MP & Pro models that old-school classic feel with the precision and power the modern game demands.
THE PLAYTEST 
Right off the bat our playtesters noticed the increased feel and flex from the new Speeds. The MP & Pro models have a much more plush and comfortable impact than any previous version. These frames come with similar feel to more classic frames like the Prestige Classic. Thin beamed, high flex and great control give the MP and Pro models perhaps the most important update of any Speed ever. 
The rest of the line benefits from graphene dampening technology. Since the MP Lite, S and Lite models are stiffer (to ensure proper power on lighter racquets), dampening helps stave off unwanted vibrations. Graphene dampening also gives the lighter racquets a greater feeling of solidity which is a chronic problem in lightweight racquets. All our playtesters noted the easy power and top-spin these racquets brought to the court. Although none of them feel as solid as the heavier models, Head has given these racquets better feel than most. We suggest increasing tension if you struggle to keep balls in with the lighter Speed models. Some of the lighter models could also benefit from adding some lead tape.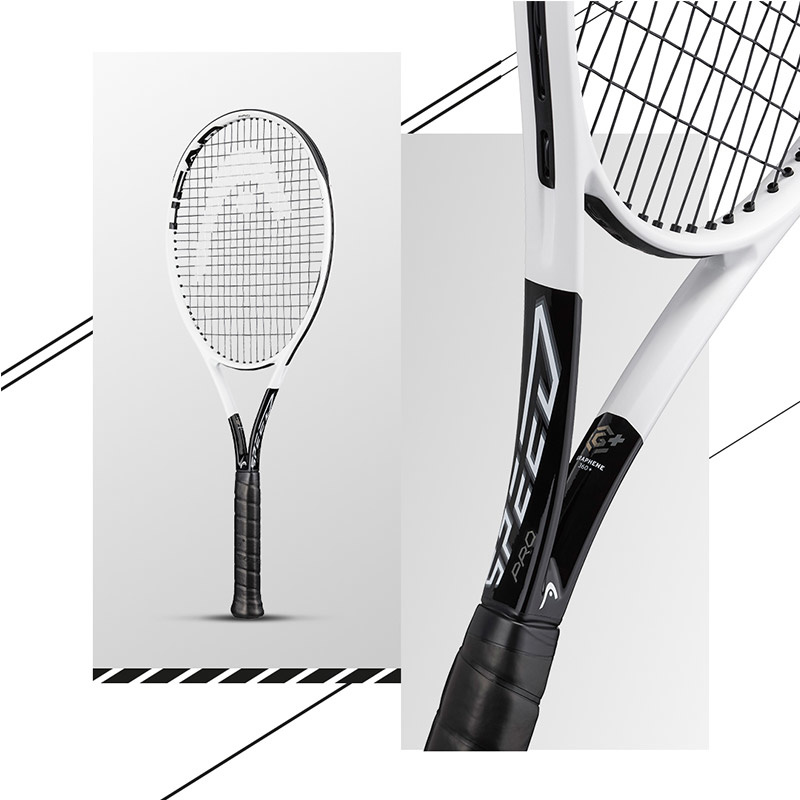 SPECS REVIEW
Note: The Graphene 360+ Speed racquet line has incorrect balance specs /beam widths written on the racquets. You may find differing values on other sites and on Head's official site but the balance points and beam widths are pretty easy for anyone to validate our values. This isn't the first time that Head's balance points are incorrectly stated on their frames.
Head Graphene 360+ Speed Tennis Racquets: Key Specs
|   | Speed Pro | Speed MP | Speed S | Speed MP Lite | Speed Lite |
| --- | --- | --- | --- | --- | --- |
| Headsize | 100 sq. in./ 645 cm. sq.  | 100 sq. in./ 645 cm. sq.  | 100 sq. in./ 645 cm. sq.  | 100 sq. in./ 645 cm. sq.  | 100 sq. in./ 645 cm. sq.  |
| Length | 27 in. | 27 in. | 27 in. | 27 in. | 27 in. |
| Unstrung Weight | 10.9 oz / 310 g | 10.6 oz / 300 g | 10.1 oz / 285 g | 9.7 oz / 275 g | 9.3 oz / 263 g |
| Strung Weight | 11.5 oz / 327g | 11.1 oz / 315 g | 10.4 oz / 296 g | 10.2 oz / 290 g | 9.9 oz / 282 g |
| Swingweight Strung | 317 | 315 | 286 | 298 | 296 |
| Flex - Strung(RDC) | 62 | 62 | 69 | 67 | 67 |
| Strung Balance | 4 pts HL / 33 cm | 2 pts HL / 33.5 cm | 3 pts HL / 33.25 cm | Even / 34.5 cm | 1 pts HH / 35.25 cm |
| String Pattern | 18x20 | 16x19 | 16x19 | 16x19 | 16/19 |
| Beam Width | 23mm | 23 | 25 | 23 | 25 |
| Tension Range | 48-57 lbs | 48-57 lbs | 48-57 lbs | 48-57 lbs | 48-57 lbs |
| U.S. Price | $239.95 | $229.95 | $209.95 | $219.95 | $199.95 |
| Color | White and Black | White and Black | White and Black | White and Black | White and Black |
Click here to shop the Speed racquet line!