Wilson Clash 100 and Clash 100 Tour Full Review: The Newest Innovation in Tennis, Unwrapped
Updated 2/8/2019 @ 8:08pm
THE GOOD | The Clash 100 and Clash 100 Tour are the most flexible racquets on the market, by a long shot. The flexibility provides absolute smoothness and feel on every hit. This racquets arm-friendliness with a full polyester string-bed, strung even at a high tension, is unmatched.
THE BAD | The Clash's smooth feel and flexibility may be off-putting at first, especially for those who have been playing with much stiffer racquets.
THE BASE LINE | Its unmatched flexibility, while still being as stable as the most stable racquets on the market, gives you a player's frame with today's most modern technologies. The somewhat hefty price tag is a product of the engineering investments into a brand new racquet line (with unmatched specs). Here you really do get what you pay for.


 Overall Rating: 4.5/5 Stars 
Power: 4/5
Control: 4.5/5
Feel: 5/5
Spin: 3.5/5
Stability: 5/5
Flexibility: 5/5
Please share this article with friends & the tennis community at large if you find it helpful :). Enjoy!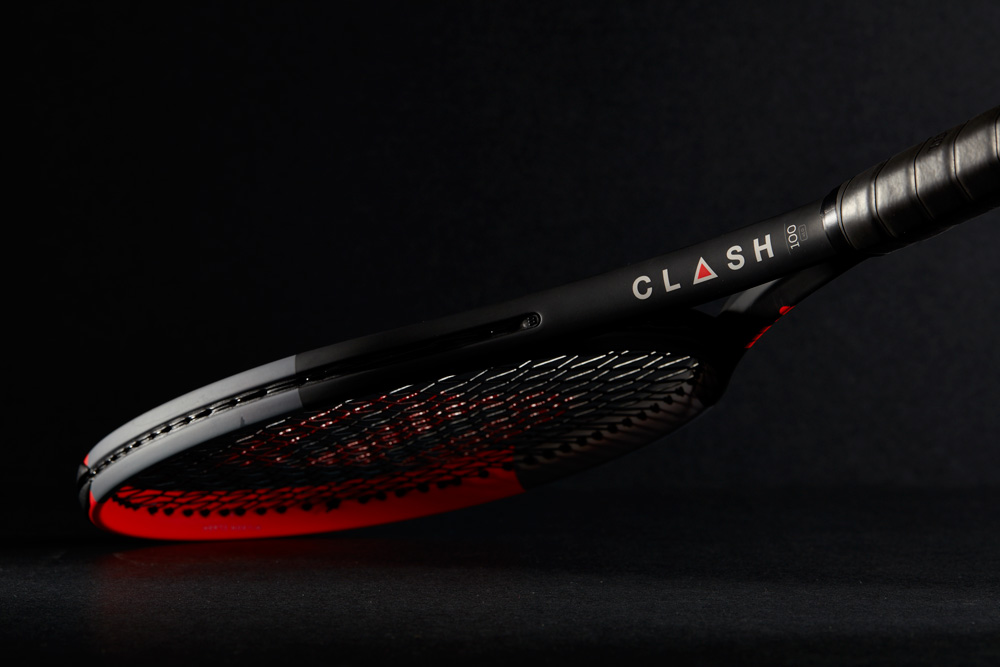 "We not only created the most flexible racquet ever, but we created a racquet that is as stable as any racquet on the market today" - Michael Schaeffer (Global Product Line Manager, Wilson)
TECHNOLOGY & DESIGN REVIEW
Recently we had a chance to play test the Wilson Clash 100 and the Wilson Clash 100 Tour an impressive new frame set with industry changing flexibility. The Wilson Clash 100 and Clash 100 Tour are surely going to impress most players when they are released. The Clash came to be thanks to "3 different ideas that didn't work on their own" that were blended together into one racquet.
Wilson is introducing two new technologies with the Clash series –  Stable Smart and Freeflex Powered by Carbon Mapping. With Stable Smart, Wilson has introduced a way of making an extremely stable and powerful frame with a relatively thin beam at 24 mm. Stable Smart provides unique frame geometry designed through the use of digital simulation & experimentation which gives the ultimate in stability (3.9 degrees torsional stability) and power for the most flexible frame in tennis. Combined with its accessible strung weight of 310g and swing weight of 290 and thicker beam, Wilson has truly created a frame that is extremely precise and powerful, things that are usually on opposite ends of the spectrum. These racquets have changed the way we think about the clash between power & control.
Free Flex Powered by Carbon Mapping- The Clash 100 and Clash 100 Tour will bend in all-new dimensions throughout the frame so that the player can swing freely with more confidence.  Free Flex is powered by proprietary carbon mapping for best in class ball pocketing and control. With Freeflex, Wilson gives both the Clash racquets an extremely low flex. We tested this and came out with an average of 51 on the RDC(Babolat Racquet Diagnostic Center), strung. Freeflex increases the time the ball dwells on the stringbed, giving you more feel & ultimately control. As Michael Schaeffer of Wilson says, the Clash is not only "the most flexible racquet ever, but we created a racquet that is as stable as (any other) racquet on the market today".
THE PLAYTEST
During our playtest, we were extremely impressed with both the comfort and power of the frames. The rackets both felt very different from what any of us had ever felt before(except some of the old timers at the club who had played with wooden rackets). It's important to keep in mind that when taking this racket out for a demo to keep an open mind. That being said, these racquets could transform the entire industry for the better.
While at the baseline, the Clash and Clash Tour are extremely stable and forgiving for their weight class. Power and spin are easy to access without being harsh. While hitting forehands, we were able to hit both the touch shot and big put away without losing stability or comfort. Our one knock on the frame was that it can sometimes be hard to know where the ball is on the string bed if strung too loose with a soft string, but that was such a small thing in the overall scheme of things that we didn't mark it down for it. Backhands were stable and forgiving, allowing you to rip a topspin ball down the line or hit a penetrating slice with ease. The Clash 100 was slightly more favored among our playtester's than the Clash Tour, but they are very similar on both feel and accessibility, it will come down to whether you prefer the slightly lighter or slightly heavier feel.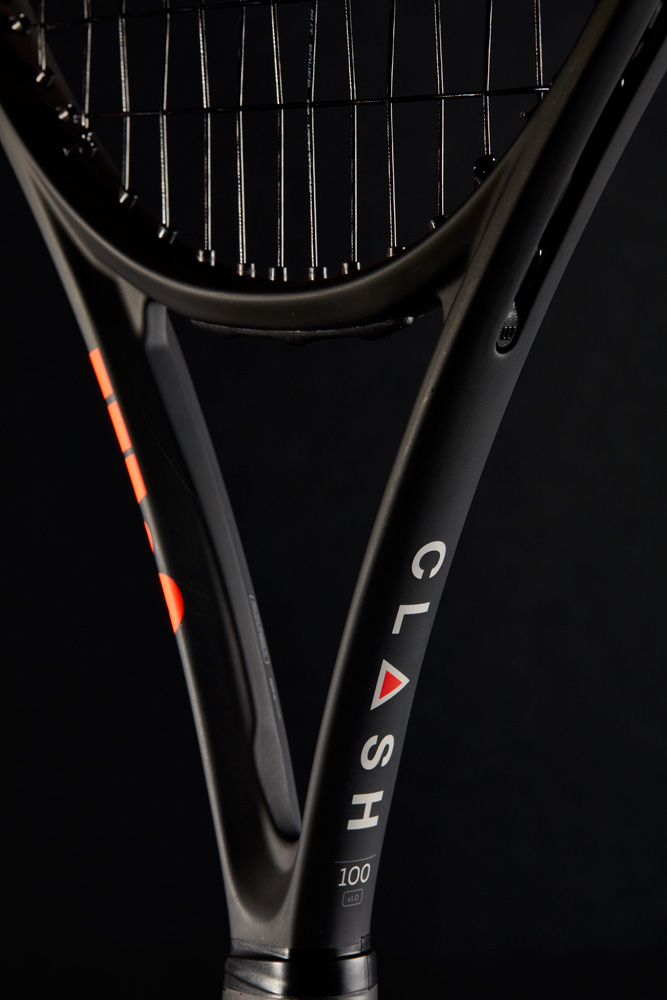 "As stable as the leading racquet on the market today, but twice as flexible" - Eloisa Compostizo (Advanced Innovation Engineer, Wilson)
Volleys were very impressive as well. The head-light balance, 7 points for the Clash 100 and 8 points for the Clash Tour strung, make it maneuverable and fast, we never felt that we were struggling to get to balls. You could hit both penetrating put-away volleys and touch volleys with ease, making it a very versatile racquet at the net. Overhead smashes were forgiving when hit off center. Overall, net play with both of these racquets is extremely impressive.
And lastly, the serve. Serving with the Clash and Clash Tour is a delight. With its nice head light balance point, the Clash flies through the air and allows you to get extreme pop. On contact, the plush feel of the Clash is amazing, you get so much power without any harsh vibrations. With an open 16x19 string pattern, the Clash also allows you to get plenty of spin to move your opponent off court, setting up the put away shot with ease.
Overall the Wilson Clash and Clash Tour are versatile, accessible frames for all levels of players. Wilson was going for a "wow" factor racquet, and that is what they have made. Anyone looking for more ball pocketing, feel, flexibility, stability & precision should give this racquet some serious demo time.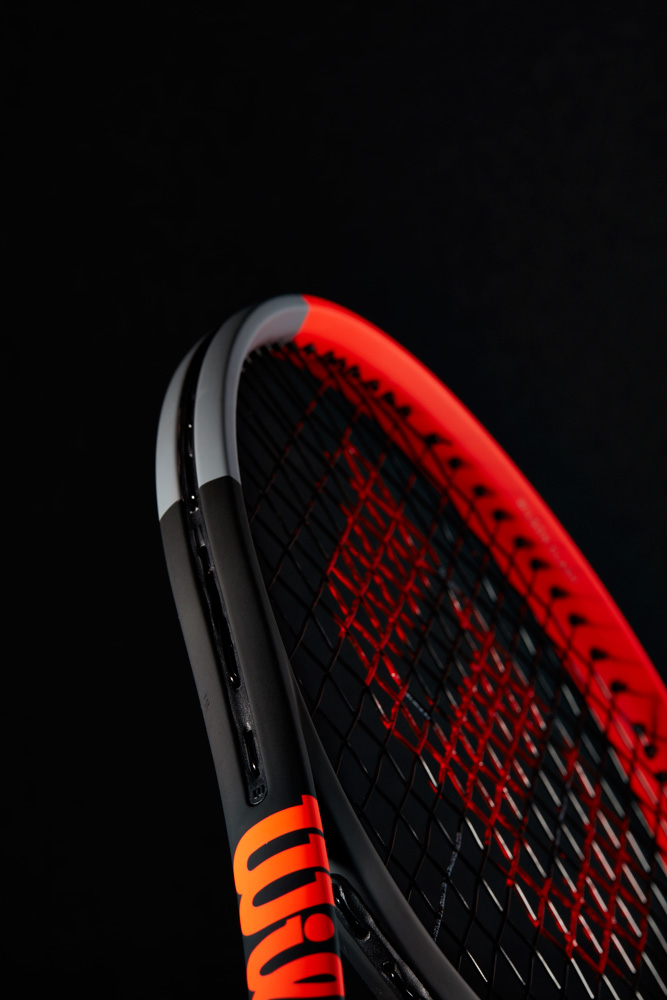 SPECS REVIEW
(NOTE: although looking at specs can be helpful, we advise to not base much opinion based on the specs. The reason being is that the Clash just feels so different overall that you won't be able to judge this book by its cover. That being said, if the weight seems a bit low for your preferences after you've tested it out we do offer free racquet customizations. We will gladly add weight if you like. Just remember the racquets stability is greater than you expect, by a long shot :)! Happy hitting.
Wilson Clash 100 & Clash 100 Tour: Key Specs
|   | Clash 100 | Clash 100 Tour |
| --- | --- | --- |
| Headsize | 100 sq. in. | 100 sq. in. |
| Length | 27 in. | 27 in. |
| Unstrung Weight | 10.4 oz / 295 g | 10.9 oz / 310 g |
| Strung Weight | 10.9 oz / 309g | 11.5 oz / 326 g |
| Flex - Strung(RDC) | 51 | 51 |
| Balance | 10 pts HL / 31 cm | 11 pts HL / 30.81 cm |
| Strung Balance | 7 pts HL / 32 cm |  8 pts HL / 31.76 cm |
| String Pattern | 16 x 19 | 16 x 19 |
| Tension Range | 48-58 lbs | 48-58 lbs |
| U.S. Price | $249 | $249 |
| Color | Black, Clash Red, Grey | Black, Clash Red, Grey |